A Seminar for beginning trackers was held November 22 & 23rd 2014. We had 5 teams that had working spots and one Audit spot. Everyone in attendance commented about how well Joann Neal presented the sport of Tracking and in a very organized fashion. Joann is from Lubbock, Texas and a long time member of TCEP
We had in attendance two Poodles, one Doberman, a Dachshund and one Corgi. All of the dogs had a lot of success learning how to Track and improved greatly by the second day. Looking forward to doing this in the future. If you are interested: Contact Norma Rust at njrust13@gmail.com
New Champion Tracker January 2014
Owner/Handler: Michele Mauldin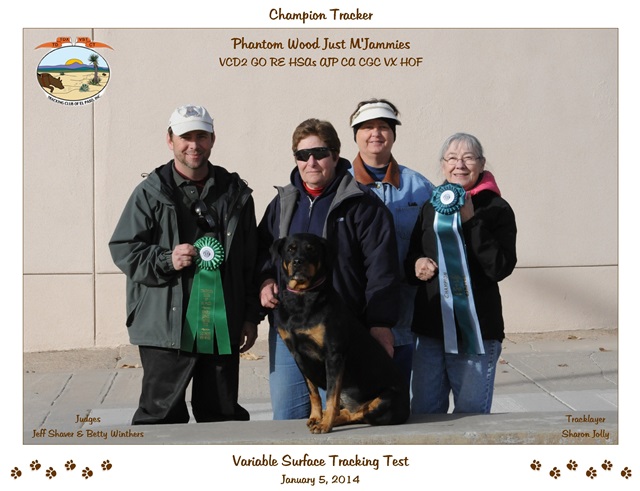 New TDX February 2014
Owner/Handler: Michele Mauldin
New TDX February 2014
Owner/Handler: Carolee Douglas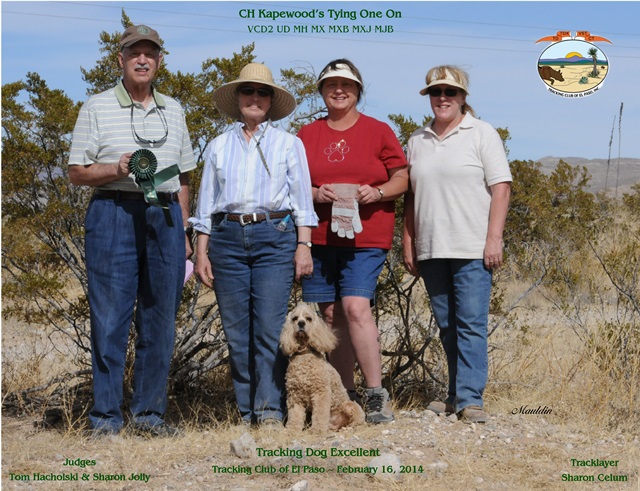 New Champion Tracker January 2013
Owner/Handler: Sandra Hill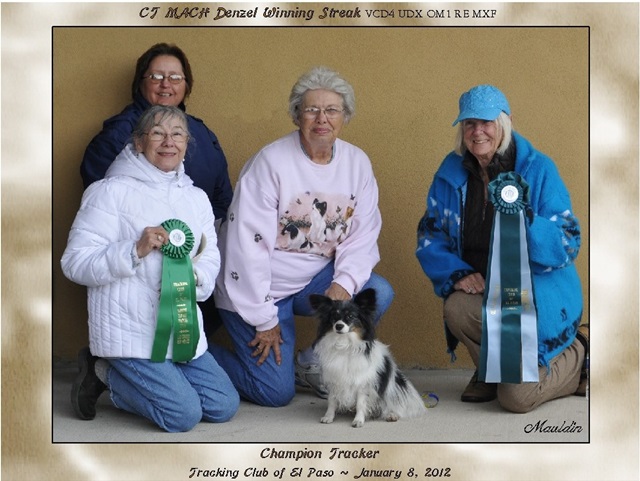 The Tracking Club of El Paso (TCEP) holds 3 AKC tracking tests every year: VST, TDX, and TD.
Contact Michele Mauldin for Premiums- mauldinm@msn.com.
Upcoming Tracking Tests in 2016:
Variable Surface Tracking (VST) Test
January 10th 2016 in Las Cruces, New Mexico at NMSU
Judges: Tom Hacholski and Jean Hilbig
Test Secretary: Norma Rust (915) 443-8979
Tracking Dog (TD) Test
January 31st 2016 at Ft Bliss, Texas
Judge: Carolee Douglas and Charlene Dunn
Test Secretary: Sandra Hill (915)584-2830
Tracking Dog Excellent (TDX) Test
February 14, 2016 in El Paso, Texas
Judges: Sharon Jolly and Jon Bishop
Test Secretary:Pam Dundes(915)549-7839
If you are interested in joining the Tracking Club of El Paso, please contact President Norma Rust at njrust13@gmail.com for information.
Click on the names to email club officers:
Last Updated August 21,2015